Inauguration of the first integrated vertiport in Pontoise, a hub for new sustainable air mobility in Europe
ADP Group and Skyports, together with the support of RATP Group, Paris Region and the French Ministry of Transport's Department of Civil Aviation (DGAC), have unveiled the first test terminal for future electric vertical take-off and landing (eVTOL) aircraft at the Pontoise Cormeilles-en-Vexin airfield.
The only one of its kind in Europe, the Pontoise vertiport now has all the aeronautical and passenger components needed to develop future electric aircraft services: hangar, take-off and landing area, passenger terminal, control areas.
The entire passenger journey, which is as close as possible to the configuration projected for 2024, can now be tested there: terminal access, control formalities - based on biometric technologies deployed by SITA - and aircraft boarding.
In addition, Volocopter made a flight in conventional air traffic today.
The first vertiport passenger terminal in Europe
Designed and developed by Skyports and the ADP Group, the passenger terminal inaugurated today will serve as a test bed in order to prepare for the experimentation planned in 2024 and the upcoming launch of passenger services, for:
the complete passenger journey: check-in and controls, journey time, boarding;
Aircraft integration: procedures related to ground movement and loading and maintenance operations;
flight scheduling and passenger information.

This passenger terminal features all of Skyports' expertise in developing infrastructure for new air mobility, in terms of safety, regulatory compliance, efficiency and functionality. Its compact size(115 m²) has been designed to provide both a comfortable passenger experience with fast circulation and the smallest possible footprint. The modular design of this infrastructure gives it great flexibility of use and has resulted in a speedy and simple construction with a strong focus on reducing work-related waste and sourcing materials that favor short supply chains.
Today's inauguration marks the culmination of twelve months of test campaigns at the Pontoise airfield and was accompanied by a Volocopter flight in conventional airspace, alongside another aircraft and demonstrated the interaction between the passenger terminal and the eVTOL.
Created in 2020, the Paris Region ecosystem for new air mobility brings together some thirty industrial, academic and regulatory stakeholders with the goal of addressing all the issues at stake: aircraft, operations, infrastructure, airspace management and acceptability. Concerning eVTOLs manufacturers - after Volocopter, Airbus, Ascendance Flight Technologies, Lilium, Joby Aviation, Vertical Aerospace - Eve Air Mobility, a dedicated subsidiary of Embraer, has recently joined the industry.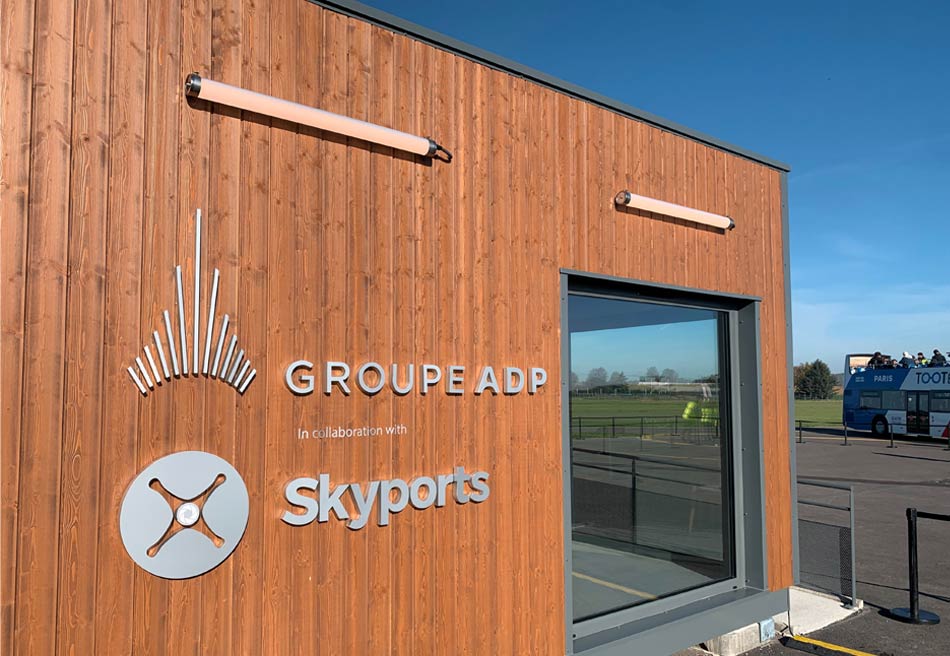 In 2023: develop uses and implement five additional vertiports by 2024
The Pontoise test bed is intended to promote the development of new uses, such as logistics, monitoring and maintenance, sanitary and medical.
In the medical field, the ADP and RATP groups are working with Assistance Publique - Hôpitaux de Paris (AP-HP) in order to assess the conditions for a demonstration in a real environment by 2024, with the use of light aircraft to meet three types of transportation needs: the transportation of biological material, light casualties and specialized doctors, from Paris-Le Bourget, a major medical airport for Paris Region.
The know-how developed with this test terminal in Pontoise will be used directly for the development of several vertiports in Paris Region to meet the 2024 deadline and offer two passenger connections between:
Paris and Versailles (between Paris-Issy-les-Moulineaux heliport and Saint-Cyr l'École airfield) ;
The Paris-Charles de Gaulle and Paris-Le Bourget airports and a site in Paris, quai d'Austerlitz (barge project on the Seine).

Administrative procedures are underway for the creation of these five vertiports.
Volocopter - whose 2X model is so far the only one authorized by the DGAC for test flights at Pontoise airfield - is in the process of obtaining the European certification that will allow it to fly at all the above-mentioned vertiports.
Thus, by 2024, the planned experimentation will be based on:
a Volocity fleet (Volocopter aircraft) ready to be deployed in Paris and Paris Region;
each aircraft will be able to perform 2-3 flights per hour.