Paris Marne la Vallée - Attractive & Smart City

Located Eastern Paris Region, Marne-la-Vallée is directly connected to downtown Paris and La Defense business districts, and offers direct international links to Germany, Great Britain and The Netherlands from Chessy Hub TGV station.
A speed shuttle reaches Paris CDG airport in 8mn only and opens Marne-la-Vallée to the world. As a recently urbanized area, Marne-la-Vallée is one of the most dynamic Paris Region counties. Infrastructures and public equipment's are brand new, and real estate matches sustainable international standards.
In fact, Marne-la-Vallée hosts the French 1st smart city business hub at the Cité Descartes, with no less than 34 Research Labs, 1,000 searchers and 350 companies. The Sense-City monitored climatic mini-city is a remarkable equipment to find solutions for tomorrows urban environment.
The overall standard of living in Marne-la-Vallée, international connectivity and a high proportion of executives makes it a natural spot for business campuses. Recent investments include Deloitte, famous leading professional services firm, with its Deloitte University EMEA.
World known as a touristic destination, Marne-la-Vallee offers an unforgettable experience, with major attractions as Disneyland Paris® and the Champs-sur-Marne castle, one of 18th century French marvels. Furthermore, its preserved natural spaces made it a choice for Paris Olympic & Paralympic Games in 2024 with rowing and kayak events at the Vaires-Torcy Olympic water stadium. The journey continues at La Vallée Village, one of Paris Region greatest luxury outlet shopping destination, and ends with an ideal escape at the lagoon of Villages Nature® Paris. Enjoy!
Business & Innovation
29,144 companies
165,000 jobs
1st French Smart City Cluster
15,000 students
Key industries: Smart city / High-Tech Manufacturing / Retail / Hospitality / Tourism
19 Universities and Engineering Schools
50 R&D Labs
1,000 Researchers
Offices: 2,000,000sqm
From 145 to 215€/sqm/year
20 Coworking
100% optic fiber
Business creation developement support
Matching between companies and research centers
Quality of Life
Disneyland Paris ® - 15 million visitors/year
Château de Champs-sur-Marne
Chelles Islands Natural Reserve
Villages Nature ® Paris
Collège Jacqueline de Romilly
Val d'Europe Mall with 190 shops and 34 restaurants
431,330 inhabitants
Flat: 3,400 to 4,500€/sqm
House: 2,800 to 3,200€/sqm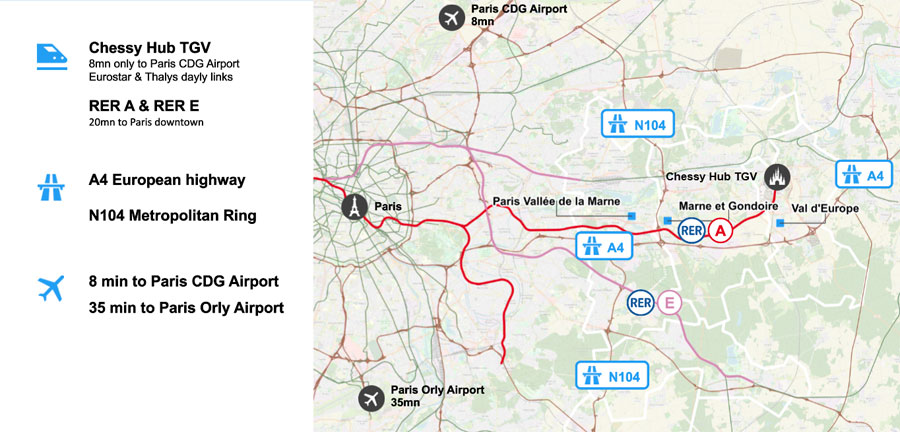 Are you Interested in finding out more about the advantages of Paris Region? Check out our guides and industry pages below: